List of 10 most improved footballers of season 2014–15: Football will never be the same and the statement is also applicable for footballers also. Season 2013–14 was not good for some footballers, but they kept on working hard on their weaknesses and now they are one of the most improved footballers of this season. We have made a list of football players who bounced back in this season and shut up the criticizers. Take a look on this yet another interesting list.
Most Improved Football Players in Season 2014–15
Bas Dost, Wolfsburg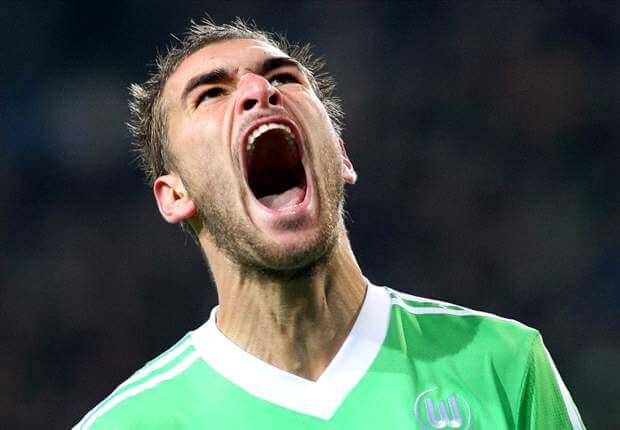 Why Wolfsburg is enjoying this season? Their star player Bas Dost have turned himself into a player that his club wanted desperately. The German club Wolfsburg is currently at the second spot and have almost qualified for the next season of Champions League. It would be fair if Dost receives the best player of Wolfsburg this year.
It is said that players who perform in big games leaves a unique mark. Dost proved himself during match against Bayern Munich when he scored two goals in 4–1 win of his club. Also, he netted four times in close encounter against Bayer Leverkusen in 5–4 win of Wolfsburg.
Related: 10 most loudest football grounds
Gerard Pique, Barcelona
Season 2013–14 was worst for Gerard Pique. The Spanish footballer knocked out from Champions League last season, lost final against Real Madrid and slipped La Liga title also. After the end of last season, worst was yet to come for Pique. His national side eliminated from group stage including huge 5–1 defeat at the hands of third place winners of 2014 FIFA World Cup.
But now everything is working great for him. He defending skills are working great with new signing Jeremy Mathieu. Barcelona are enjoying the first spot of La Liga, looking dominant in UEFA Champions League and qualified for the final of Copa Del Rey 2014–15.
Bernd Leno, Bayer Leverkusen
One of the most underrated, Bernd Leno is doing everything possible for his team. The German goalkeeper is now considered as Germany's next Manuel Neuer. Seven clean sheets came in a row during a remarkably good patch recently, which included a brilliant performance in the DFB Cup quarter final.
He played crucial role against Spanish club Atletico Madrid in second leg pre-quarter final of Champions League, but unfortunately, his club failed to go through.
Related: Top 10 Fast Running Footballers
Marouane Fellaini, Manchester Untied
We all know what was the performance of Manchester United last season and how they are performing this season. Reason being, their players are improving with a rapid rate and the red devils are looking unstoppable. Fellani is also one of those players who has been upgraded this season.
Fellani scored first competitive goal of the season against Stoke City. His third goal of the season came in 2–0 away win against Queens Park Rangers. He scored one goal in Manchester Derby that held on 12th of April 2015.
Francis Coquelin, Arsenal
Another player from Arsenal football club who is now known as improved footballer. He was one such player when he arrived at the club at the age of 17. He was immediately heralded as 'one for the future'.
In press conference on 22nd of January 2015, club manager Arsene Wenger spoke of Coquelin's loan to Charlton Athletic saying: "I saw that he made huge improvements in training so I sent him on loan for match practice."
Mohamed Salah, Fiorentina
Salah improved his game right from the start of the season. It was reported that he has been spared of military service after the meeting with the Egyptian Prime Minister Ibrahim Mahlab. In third round of League Cup, he made the first start appearance for Chelsea.
In first game for his new club Fiorentina, Salah was largely involved in 3–1 win. He scored against Torino and Inter Milan in domestic League. Also, he netted brace against Tottenham Hotspur and against Juventus in Coppa Italia.
Nacho Monreal, Arsenal
The Spanish footballer failed to make his place permanent at Arsenal after player first 18 months. His disappointing performance forced the club to let him go. But the manager showed faith in him and in return Monreal replied with some great games.
Nacho Monreal showed his best performance of the season against Manchester United in Cup. He scored the opening goal in 2–1 win that helped Arsenal to qualify for the semi final of FA Cup.
Ashley Young, Manchester United
Ashley Young was one of those footballers who was criticized a lot in last season for his poor form at Manchester Untied. Actually, most players of this club faced lots of criticism under the management of David Moyes, but it was his past.
Today he is improving well with Dutch manager Louis Van Gaal. Against Newcastle United, Ashley Young scored the first goal of season 2014–15 that later became the winning goal of Manchester United vs Newcastle. During Manchester derby of season 2014–15, he scored once and provided 2 assists in 4–2 win.
Isco, Real Madrid
Spanish footballer Isco is one of the most utilized players of Carlo Ancelotti who is the future of club. The player didn't performed upto the expectations last year, but he suddenly changed himself that makes him one of the most improved player in season 2014–15
The European might be suffering from their current run, but one of their midfielder have improved a lot in past games. The golden boy Isco is now considered as Spain's next Andres Iniesta for his magical performance for both club and country.
Jeremy Menez, AC Milan
Last but not the least, AC Milan winger Jeremy Menez is on the way of new role. He was signed by the club in June 2014. The troubles of AC Milan are not over yet, but the player continues his dominant run, being the second top goal scorer of Serie A with total of 16 goals. No matter what his teammates are doing on the pitch, he continue to put all efforts for his team.
He continued his impressive form and scored a wonder goal as he dribbled past 3 defenders and put it in the net as he helped Milan beat Napoli by 2–0. Jeremy Menez scored two goals and got an assist in 3–1 win against Parma.